Thank you for a fantastic festival! We were so pleased to see that many people of all ages from Weimar, Buttelstedt, Großobringen and around. Food connects. Delicious food connects even better.
Culture Food Festival in the Press
Thüringer Allgemeine, May 28, 2018: "Origami, Traumhaus und Zappelfüße"
Thüringer Allgemeine, May 25, 2018: "Buttelstedt: Geschichten über den Tellerrand hinaus"
Thüringer Allgemeine, March 3, 2018: "Neugier geht durch den Magen: Buttelstedts Regelschüler bereiten mit der Bauhaus-Uni und der Gemeinde Großobringen ein 'Culture-Food-Festival' vor"
Saturday, May 26, 2018
10am-3pm in Großobringen
Am Samstag, den 26. Mai 2018
10-15 Uhr in Großobringen
---Deutsch s.u.---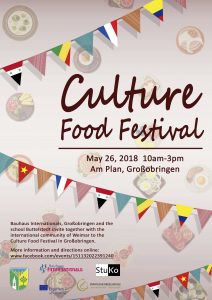 The first time Bauhaus Internationals, the international student community of Weimar, Großobringen and the high school in Buttelstedt are organizing an event that size together! On May 26 we want to connect people from Weimar, Großobringen, Buttelstedt and around the world to have a fun Saturday with delicious food based on various cuisines (like Colombian, French, Indian, Syrian, Congolese and Vietnamese) and activities for every age: From handicarfs, face painting for kids and quadracycles over dance performances, theater plays, henna, calligraphy with Arabic and Chinese ideographs to guided tours around Großobringen and information booths with internationally working organizations: We are happy to welcome Experiment e.V., EuroWerkstatt Jena, CGE Erfurt and the EuroPeer network! There you can get information about varies opportunities for going abroad and other international projects.
10:30am Guided Tour Großobringen (in German & English)
10:45am Dance Performance small kids "Großobringer Zappelfüße"
12:30 Dance Performance bigger kids "Großobringer Zappelfüße"
1:00pm Guided Tour Großobringen (in German & English)
2:00pm Guided Tour Großobringen (in German & English)
No admission, donation for the food will support an international project of the school in Buttelstedt. Großobringen is 10 minutes by bus from Weimar Hauptbahnhof and THOSKA will bring you there.
By bike it's an approx. 20 minutes trip and by foot a little more than an hour to walk (map). By car you reach Großobringen directly via B7 and B85 (map).
Buses (226/231) ran from Weimar main station to Großobringen B85 (2 min. to walk to the festival) at 10:20, 12:20, and 13:15.
The busses to Schöndorf (#7), bus stop Bruno-Apitz-Straße, go every 15 min. from Goetheplatz. From there it's a beautiful 25 min. walk along the walking path.
Stay up-to-date on our Facebook event.
____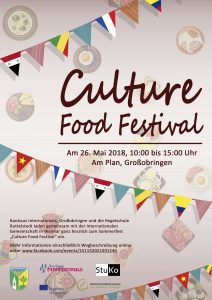 Bauhaus Internationals, internationale Studierendengemeinschaft von Weimar, die Gemeinde Großobringen und die Regelschule Buttelstedt veranstalten gemeinsam am 26. Mai ein internationales Fest. Wir wollen Studierende, Personen aus Weimar, Großobringen, Buttelstedt und allen anderen Ortschaften zusammenbringen und ein großartiges Fest mit jede Menge gutem Essen aus internationalen Küchen und Veranstaltungen für jedes Alter feiern. Von Bastelaktionen, Kinderschminken, Tanzvorführungen, Theater und Kettcars über Kalligraphie mit arabischen und chinesischen Schriftzeichen und Henna zu Gästeführungen durch Großobringen und Informationsständen von Vertreter*inne von international arbeitenden Organisationen (wir freuen uns auf Experiment e.V., EuroWerkstatt Jena, CGE Erfurt und das EuroPeer-Netzwerk!), wird alles dabei sein.
10:00 Uhr Eröffnung
10:30 Uhr Führung Großobringen
10:45 Uhr Tanz der Kleinkinder «Großobringer Zappelfüße»
11:00 Uhr Theateraufführung
12:30 Uhr Tanz der größeren Kinder «Großobringer Zappelfüße»
13:00 Uhr Führung Großobringen
14:00 Uhr Führung Großobringen
(alle anderen Aktionen von 10-15 Uhr)
Die gesamte Veranstaltung, Essen und Aktivitäten basieren auf Spendenbasis. Die Spenden gehen an ein internationales Projekt der Regelschule Großobringen.
Großobringen liegt mit dem Bus 10 Minuten von Weimar entfernt. Wer eine THOSKA hat benötigt keinen anderen Fahrschein. Die Abfahrten vom Weimarer Hauptbahnhof nach Großobringen B85 sind um 10:20, 12:20 und 13:15. Nach Schöndorf fahren die Busse (Linie 7) alle 15 min.
Auch mit dem Fahrrad (20min) und zu Fuß (60min, von Schöndorf 30min.) ist Großobringen gut über einen Fahrradweg zu erreichen. Mit dem Auto gelangt man über die B7 und B85 direkt nach Großobringen.
Mehr Informationen auf auch in unserem Facebook-Event.