We are Looking for new Team Members!
Our team, consisting of German and international members from Bauhaus-Universität and Hochschule für Musik Franz Liszt, meets every Monday during the semesters at 6.30pm in "M18" (Marienstraße 18, opposite the Mensa) underneath the roof. We cook together, discuss current issues and plan events.
Everybody is more than welcome to join at any time. We are always looking for new team members who are interested in working in an international team and enjoy planning projects and activities.
Feel free to contact us via email or Facebook or just come by at one of our meetings! We are very much looking forward to meet you!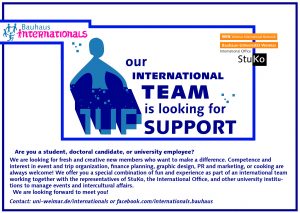 Unsere Referatsleitung sucht Verstärkung!
Bauhaus Internationals ist nicht nur ein Referat des StuKo, sondern vielmehr die Interessengemeinschaft aller internationalen Studierenden an der Bauhaus-Universität Weimar. Für diesen wichtigen Teil des universitären Alltags benötigen wir Referenten oder Referentinnen, welche die Organiosations- und Verwaltungsaufgaben des Referates übernehmen.
✎ Studierendenvertretung bei internationalen Treffen an der Universität
✎ Direkter Kontakt zum International Office
✎ Kontaktpflege und Zuarbeit für den StuKo
✎ Koordination der Team-Meetings
Die Amtszeit sollte dabei vorraussichtlich für mindestens ein Jahr gewährleistet sein.
Bei Interesse meldet euch bitte unter: stuko-vorstand[at]uni-weimar.de